Just so you know, this post contains affiliate links. We do receive a small commission when you click on our links and make a purchase (at no extra cost to you). We always give our honest opinions, and these opinions are fully our own. See our Disclaimers →
Pallini Peachcello White Peach Liqueur
About Peachcello White Peach Liqueur
Pallini Peachcello White Peach Liqueur is produced by Pallini, a family-run company known for its specialty liqueurs and syrups. Originally founded in Antrodoco, Italy in 1875, Pallini moved its facilities to Rome in the 1920's. The company is still family-run to this day, passing the trade down to at least 5 generations. They introduced their Peachcello liqueur around 1999 – roughly the same time as their world-famous Limoncello.
Although Pallini doesn't give details about their Peachcello production process, we can infer that their current recipe is similar to the liqueur's origin story – but perhaps with fancier techniques and equipment. In this story, the founder's son's wife infused the fresh white peaches in alcohol (as a preservation technique), then mixed the leftover infused alcohol with fresh peach juice and sparkling wine. They do disclose that their peaches are sourced from the orchards of Emilia Romagna, and chosen for being at their peak flavor.
❖  ABV: 26%
❖ Distillery: Pallini
❖ Aging: N/A
❖ Price Point: moderate price
Although Pallini doesn't have any official tasting notes listed for this liqueur, there are a few notes that various retailers seem to agree on:
Palate:
❖ Peach
❖ Vanilla
❖ Spice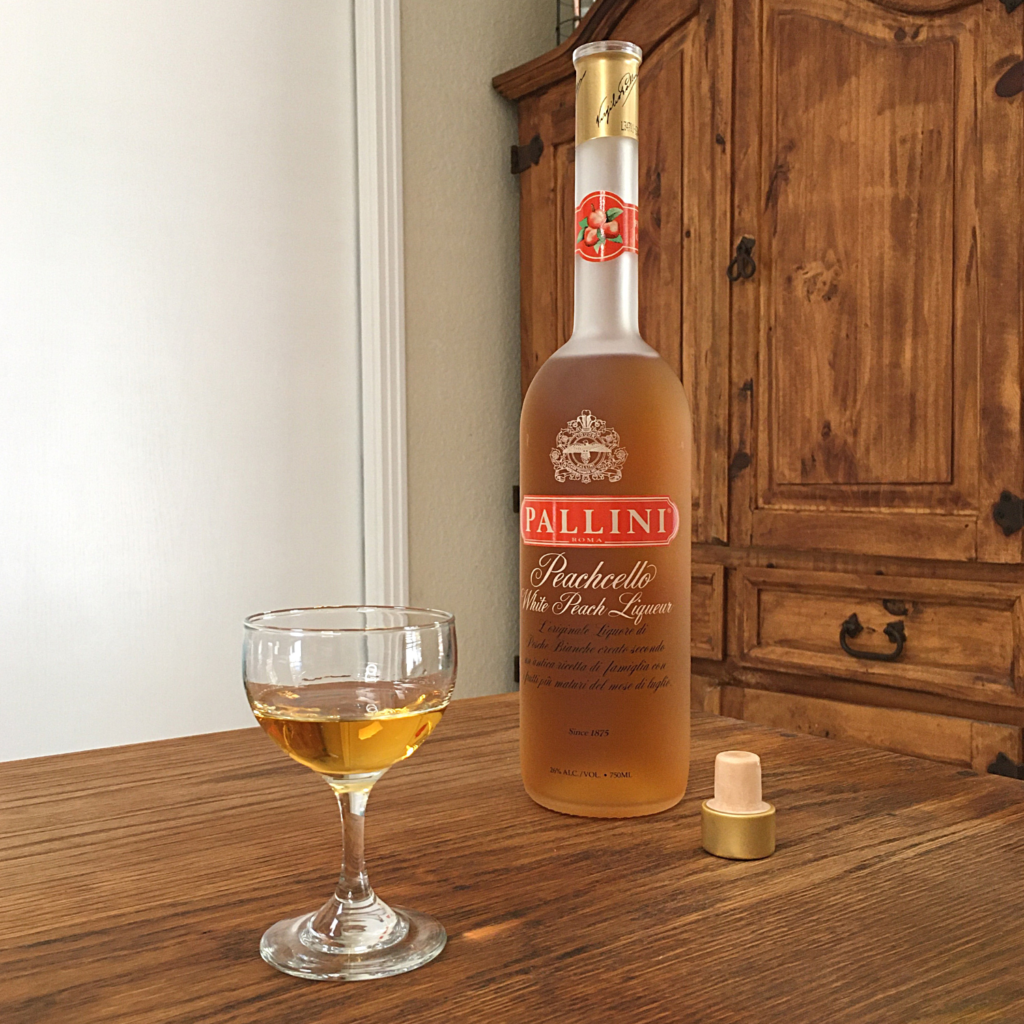 As I began to take a whiff of this liqueur, I noticed that there was a strong peach aroma that wafted upwards from the glass. The peach notes smelled surprisingly fresh, and there was a sense of flavorful sweetness. The aroma really reminded me of peach rings – except without the artificial quality of the candy. Overall, this liqueur smelled very smooth, with no alcohol aroma at all.
My first sip of Peachello was a true surprise! To be honest, I felt like I was drinking candy rather than an alcoholic beverage. The peach notes were very prominent, as I expected. After a few sips, the spice notes began to come out. The spice is very subtle, but it adds an extra little kick to the mouthfeel. The overall texture of the liqueur felt thick and rich.
For my cocktail, I was feeling creative and wanted to create a refreshing summer drink of my own. Since our basil plant was growing so nicely, I decided to combine the white peach and basil flavors with a simple lemonade base. I call this the Peach Basil Splash!
Yield: 1 drink
Peach Basil Splash
recipe by Emmeline Gonzalez-Beban
Ingredients
2 oz Peachcello
4-5 fresh basil leaves
1/4 oz simple syrup
1 oz lemon juice
soda water (to top)
garnish: peach slice
Instructions
Add the fresh basil leaves and simple syrup to your shaker, and gently muddle to release the oils.
Add in the Peachello and lemon juice, and shake with ice until chilled.
Strain the mixture into a cocktail glass filled with ice.
Top it off with soda water, and garnish with a fresh slice of peach if desired.
Love the straw in this cocktail? We do, too! You can get yours here with our 20% off coupon LETSDRINKIT.
Inside of a cocktail, Peachello is pretty nice. It creates a smooth cocktail where the alcohol is undetectable. It adds a nice level of fruitiness to the drink without being overpowering against the other flavors. I also really appreciated the freshness of the peach flavor even more in a cocktail. If I didn't know any better, I would think that I juiced a whole white peach myself and poured the juice in. This liqueur is not artificial at all in its sweetness. I was very impressed.
Overall, Pallini Peachcello White Peach Liqueur is a must-have for folks who enjoy fruity liqueurs. The freshness of the flavors really exceeded my expectations. As far as the price range, I think this peach liqueur is a good value. It's not the cheapest peach-flavored spirit out there, but it's a moderately-priced item that tastes expensive. I love it!
I also really appreciate that Pallini is a family-run company. In my opinion, you can really taste the love and passion for the trade in each sip. It's also clear that the producers really honor the landscape of Italy. When drinking Peachello, I can easily picture the vibrant peach orchards in my mind's eye. There is a definite sense of place.
Do yourself a favor and pick up a bottle of Pallini Peachcello White Peach Liqueur for your next special occasion. You won't be sorry!
As always, drink responsibly.
Get more from Let's Drink It! by subscribing to our monthly email newsletter