Just so you know, this post contains affiliate links. We do receive a small commission when you click on our links and make a purchase (at no extra cost to you). We always give our honest opinions, and these opinions are fully our own. See our Disclaimers →
Olmeca Altos Plata Tequila
About Olmeca Altos Plata Tequila
I've been going through a margarita phase this summer so I've been going through blanco tequila pretty quickly. On my last shopping trip, Olmeca Altos Plata Tequila immediately caught my eye because of the embossed "100% Agave" on the interestingly shaped glass bottle. But I didn't regret my purchase after using the tequila and learning more about the company behind it.
Olmeca Altos was founded by two world famous bartenders, Dre Masso and the late Henry Besant, along with master distiller Jesus Hernandez. Their goal was to create an affordable and sustainable tequila for both bartenders and tequila enthusiasts. And they have a simple line of only three tequilas: Olmeca Alto Plata, Olmeca Alto Reposado and Olmeca Alto Anejo. 
For each step of the distilling process, Olmeca Alto tries to be sustainable and environmentally responsible. When growing the blue agave in the Los Altos highlands of Jalisco, Mexico, Olmeca Altos have taken steps to reduce water consumption by 16.4%, recycle 97% of solid waste and compost 1,700 tons of waste. The bottles were also redesigned in 2018 to reduce glass by 20% which resulted in a a drop of CO2 emissions by 20%.
❖ Spirit: Blanco Tequila
❖ Distillery: Olmeca Distillery (NOM 1111)
❖ ABV: 40% 
❖ Low-Moderate Price
My Tasting Notes 
❖ Color: clear
❖ Nose:  vegetal qualities of the agave, strong sweetness
❖ Taste: sweet agave, mint, slightly bitter citrus
❖ Finish: long, sweet peppery mint, slight warmth from the alcohol.
Tasting Notes from Olmeca website for reference
❖ AROMA: Herbal notes of steamed agave and fresh citrus-sweet tones overall.
❖ TASTE: Sweet to the mouth with citrus notes like lime, lemon, and agave. The aftertaste is pleasant and long-lasting.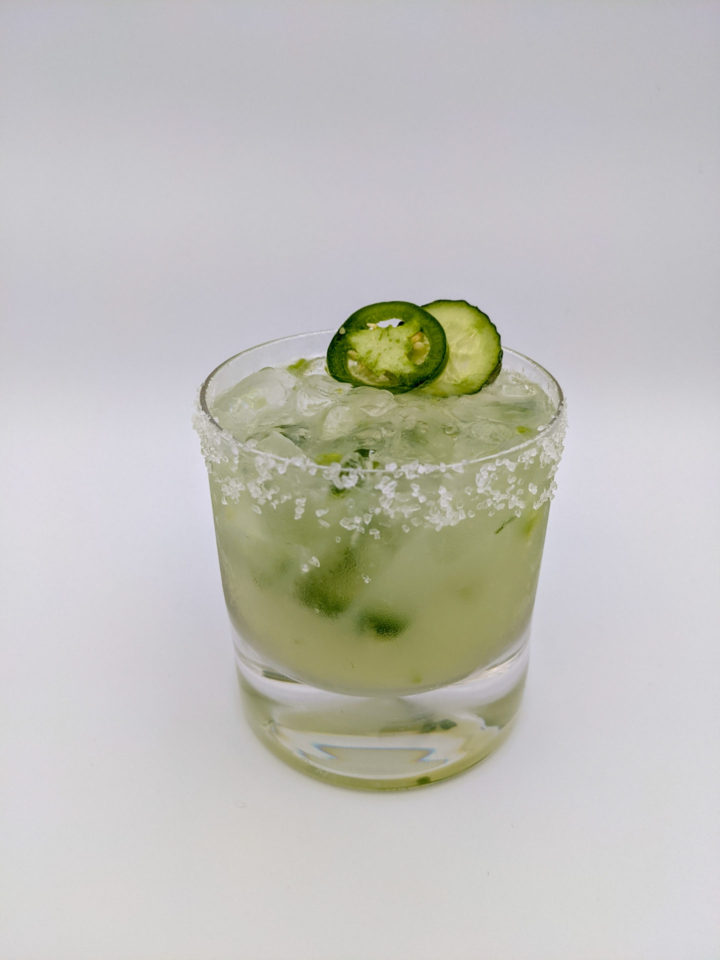 Cucumber & Jalapeno Margarita
1 oz Lime Juice
1/2 oz Triple Sec
1 1/2 oz Blanco Tequila
Cucumber slices
Jalapeno slices
❖ Muddle a few slices of cucumber into shaker
❖ Add jalapeno slices, lime, triple sec and tequila into shaker and shake until chilled
❖ Dump shaker contents into glass and garnish with cucumber and jalapeno
As I mentioned earlier, I've been making too many margaritas this summer. And while browsing the internet, I came across Steve the Bartender's Youtube video with five different margarita recipes. They all looked pretty good but I was most interested in the cucumber and jalapeño recipe. That combo is new to me and I was curious how the simple flavor of Olmeca Altos Plata Tequila would work with the spice of the jalapeño.
Even thought it was a bit tricky to balance all the flavors, I still enjoyed this cocktail. The flavor of the Olmeca Altos Plata wasn't very strong but still mixed well with the refreshing flavor of the lime and cucumber. However, it did take me a few cocktails to get the hang of using jalapeño. For my first try, I wanted to stay close to Steve the Bartender's video but it was a little too spicy for my taste. It was still drinkable, but I ended up preferring the overall balance of using two slices of jalapeno with the seeds. But it's nice to have so much control over the spice.
Olmeca Altos Plata Tequila is a great blanco tequila option especially if you're looking for reasonably priced mixer. I think it lacks complexity to recommend as a sipper but the simplicity makes it a great choice for cocktails. The sweet agave flavor was still present in the cucumber & jalapeño margarita, but it let those ingredients be the focus.
The price is also fair for what Olmeca Altos Plata offers. I'm able to find bottles in my local liquor stores for about $20. This this a slightly on the higher end of what I want to spent on a cocktail spirit, but it's worth it for the quality.
I also feel better about the price because of all the steps Olmeca Altos take to be sustainable and energy efficient. Their website has more in-depth info about their efforts to help the enviroment and I always feel better purchasing a product from a company with these values.
As always, drink responsibly.
Get more from Let's Drink It! by subscribing to our monthly email newsletter