Just so you know, this post contains affiliate links. We do receive a small commission when you click on our links and make a purchase (at no extra cost to you). We always give our honest opinions, and these opinions are fully our own. See our Disclaimers →
El Tequileño Platinum Blanco tequila
About El Tequileño Platinum Blanco tequila
El Tequileño Platinum Blanco Tequila is produced at La Guarreña Distillery, a historic distillery in Tequila, Jalisco. Founded by Don Jorge Salles Cuervo in 1959, El Tequileño is still run by the Salles family – now with a third generation in leadership. It was acquired by parent company Paradise Spirits in 2017.
Overall, El Tequileño takes great pride in their craft. They source their agave from the highlands in Jalisco, and utilize local volcanic spring water during production. They take great attention to detail during the cooking process, even removing the "cogollo" which is a bitter part of the agave plant. Each Tequileño tequila is distilled in copper pot stills. In addition, the company is dedicated to sustainability – utilizing 98% of their production residuals as organic compost.
This particular bottle of Platinum Blanco tequila is rested in American oak barrels for at least 14 days. Like most blanco tequilas, it is not aged.
❖  ABV: 40%
❖ Distillery: La Guarreña Distillery
❖ Aging: None
❖ Price Point: Moderate
Nose:
❖ cooked agave
❖ herbal
❖ anise
❖ black pepper
Palate:
❖ slight spiciness
❖ savory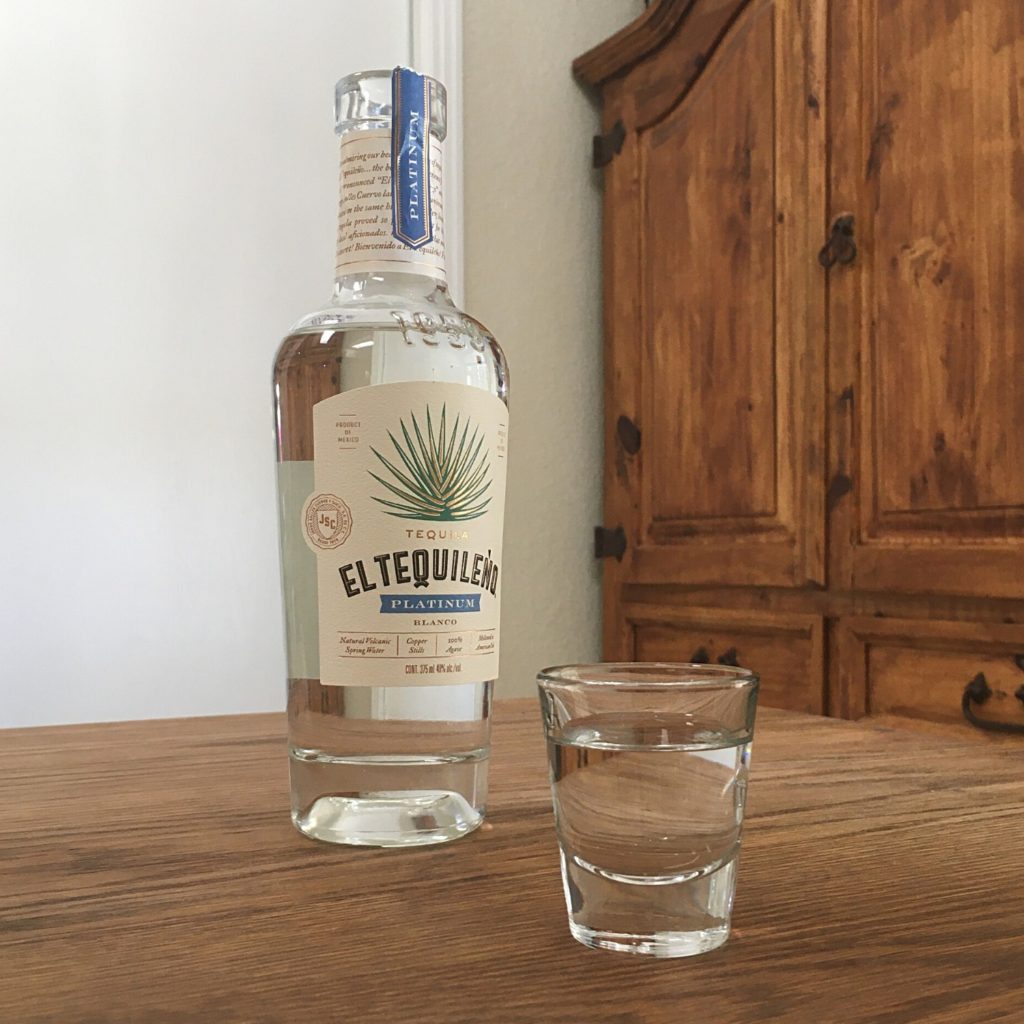 My first smell of this Tequila was sweet and vaguely fruity. After a few more whiffs, I could begin to identify the anise notes and subtle black pepper.
I took my first sip, and the black pepper notes were very prominent, dancing on my tongue for a few seconds before melting into a sweet herbal finish. With each sip, these flavor notes arrive in a different order on my palate. Overall, the black pepper was a bit much for my taste – but that is my personal aversion to spicy notes in spirits. I can't deny that the flavors were well balanced, and the alcohol was not harsh at all. 
While browsing the Tequileño website's recipe section, I found this recipe for the Corn Margarita that looked very intriguing. This drink replaces the citrus spirit in a classic margarita with Nixta, a unique corn liqueur which I'm a big fan of after reviewing it this past winter.
❖ 2oz tequila
❖ 1oz Nixta corn liqueur
❖ 1oz lime juice
❖ 1oz agave syrup
❖ garnish: charred baby corn
add the ingredients to a shaker with ice, and shake until chilled.
Strain the mixture into a cocktail glass.
garnish if desired.
Tasting this Corn Margarita was absolutely magnificent. This drink was delicious from the first sip, and I found that the Tequileño Platinum Tequila balanced well with the Nixta. These mixers really allowed the flavor notes of the Tequileño to come out stronger – particularly the anise. For a blanco tequila, I was extremely impressed.
If you're going to make this cocktail yourself, the charred baby corn garnish is an absolute must. At first, I couldn't tell where the notes of cinnamon were coming from, until I realized that the aroma of the baby corn was creating the illusion of cinnamon against the spice notes on the palate. These nose notes really added something special to the drink – not that it needed any help!
Overall, I'm very impressed with Tequileño Platinum Blanco Tequila. I feel that one can really taste the quality difference inside of cocktails – and, it's sippable as well. As of now, this bottle is my new favorite blanco tequila, and I definitely recommend it to everyone.
Tequileño Platinum is moderately priced overall – so for a blanco tequila, it's a bit of a splurge. That said, I really believe that the quality matches the elevated price. This tequila is also available in a 375ml bottle, which is nice for folks who want to spend a little less. Whatever size you choose, do yourself a favor and pick up a bottle of Tequileño Platinum Blanco Tequila.
As always, drink responsibly.
Get more from Let's Drink It! by subscribing to our monthly email newsletter