Just so you know, this post contains affiliate links. We do receive a small commission when you click on our links and make a purchase (at no extra cost to you). We always give our honest opinions, and these opinions are fully our own. See our Disclaimers →
About Mijenta Blanco Tequila
Mijenta Blanco Tequila is produced by Mijenta Tequila, an Arandas-based tequila brand co-founded in 2020 by Mike Dolan, Juan Coronado, Elise Som, and Ana María Romero (the master distiller). Created at Casa Tequilera de Arandas in Arandas, Jalisco, Mijenta boasts a fully carbon neutral production process. They are also the first B-corp certified tequila brand as of late 2022.
The agave is grown in a red clay soil that is rich in minerals such as iron and lime – which adds to the sense of "terrior" in the flavor. Their sustainable practices begin in the field, where they carefully maintain biodiversity, and avoid pesticides/herbicides. They even carry this philosophy into making the bottle labels, which are made using agave waste.
Each tequila is handmade using traditional methods. The agave plants are slow cooked, fermented, and then distilled in pot stills. They are also advertised as being sustainable and additive-free.
❖  ABV: 40%
❖ Distillery: Casa Tequilera de Arandas S.A. de C.V.
❖ Aging: none
❖ Price Point: moderate price
Nose:
❖ cooked agave
❖ vanilla
❖ caramel
❖ cantaloupe
❖ peaches
Palate:
❖ cooked agave
❖ vanilla
❖ fresh fruit
❖ cinnamon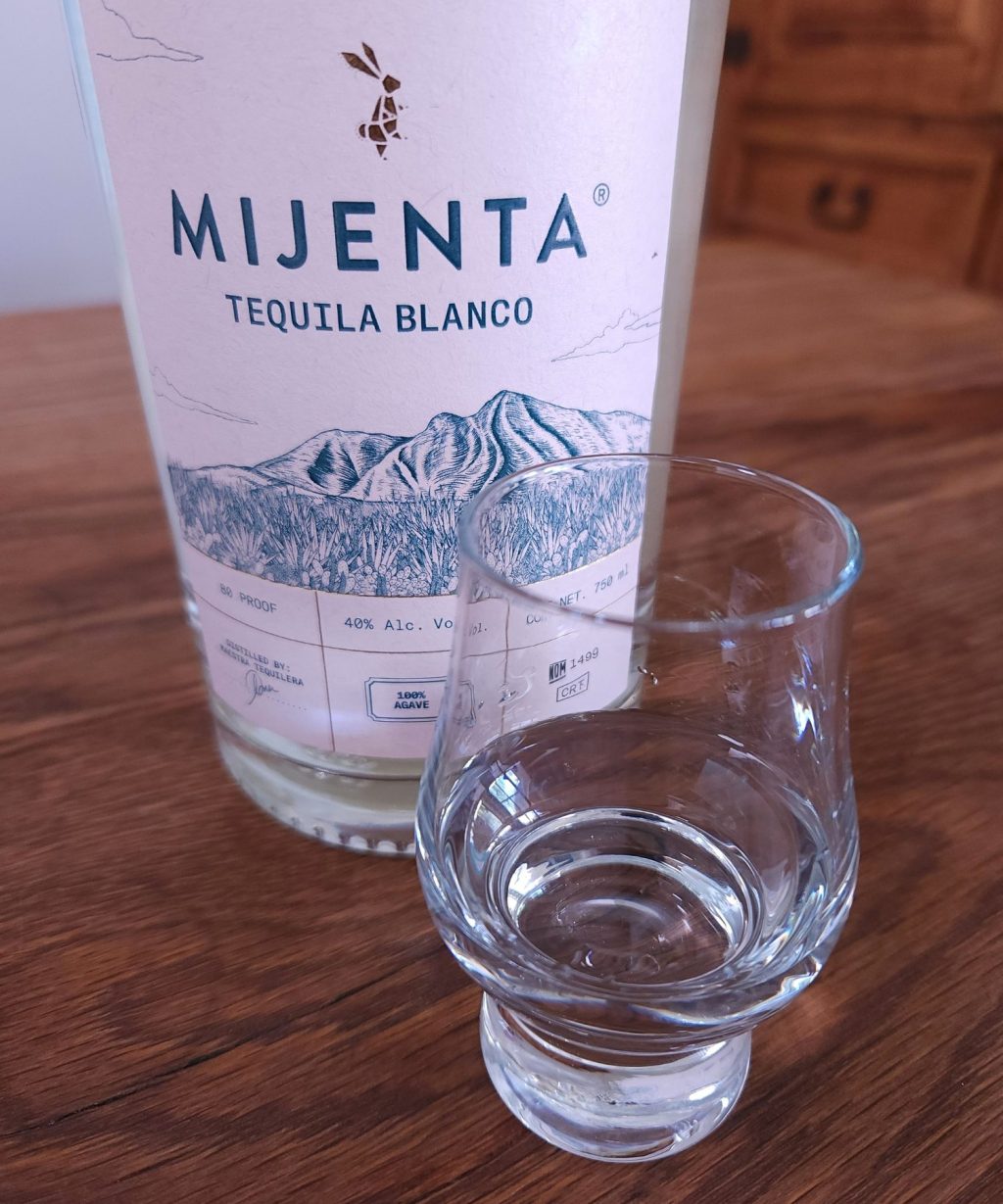 I took my first whiff of this blanco tequila, and the aroma smelled smooth and complex. I could sense a slight sweetness of cinnamon, vague fruit, and an overall airy quality. After a few sips, I began to identify the fruitiness as melon.
I moved on to taking my first sip, and there was a bit of an alcohol bite. Over time, the harshness occurred with each sip, but dissipated quickly without feeling too bothersome. Cantaloupe was the most prominent flavor note throughout, and remained as an aftertaste between sips. Although the flavors seemed subtle, something about it felt vibrant at the same time.
Yield: 1 drink
Brisa Limón
recipe by Emmeline Gonzalez-Beban
Ingredients
2 oz tequila
1/4 oz vanilla liqueur
1 oz lime juice
1/2 oz Coco Reàl Cream of Coconut
garnish: slice of fresh lime
Instructions
Add the ingredients to a shaker with ice, and shake until chilled
Strain the mixture into a small glass
garnish with a fresh lime slice if desired
Inside of a cocktail, this tequila was very tasty. Against mixers, flavor notes of cantaloupe and peach come out nicely. There was also a sweet flavor in the background that might have been caramel or honey. Overall, it made for smooth and delicious cocktail.
A few days after my official tasting, I also made a batch of Paloma cocktails for me and my parents using this tequila, and my mother described it as "the best Paloma I've ever had." The melon notes came out nicely against the grapefruit juice as well.
Overall, I was very impressed with this bottle of Mijenta Blanco Tequila. I think it's an excellent mixing tequila that I would recommend to anyone. Although I wouldn't suggest using this as a sipper, the flavor notes come out nicely against mixers in a way that tastes really special.
In addition, I appreciate the steps taken by Mijenta to create a carbon neutral operation and utililize sustainable practices. It's always nice to support a company that really makes an effort. Plus, the fact that it's additive-free is a nice bonus for folks who are health conscious or looking to avoid a hangover. Do yourself a favor and pick up a bottle of this tequila.
As always, drink responsibly.