Just so you know, this post contains affiliate links. We do receive a small commission when you click on our links and make a purchase (at no extra cost to you). We always give our honest opinions, and these opinions are fully our own. See our Disclaimers →
Luxardo Maraschino Liqueur
About Luxardo Maraschino Liqueur
Luxardo Maraschino Liqueur is produced by Luxardo – an Italy-based spirits producer originally founded in Zara, Dalmatia in 1821. They produce a variety of spirits including liqueurs, aperitifs, and more. After World War II left much of Zara in ruins, the distillery was rebuilt in Torreglia, Italy in 1947. A family-owned company each step of the way, it is now being run by the seventh generation of Luxardos. 
This particular bottle of Maraschino liqueur is modeled after a Dalmatian liqueur called rosolio maraschino, which was made in convents and monasteries as early as the medieval period. Luxardo Maraschino is made from marasca cherries, which are softly pressed and then infused for up to 3 years in larch vats. During infusion and distillation, the pressed cherry sauce, selected branches, and selected leaves are included. Distillation takes place in traditional copper stills, and only the main "heart" distillate moves on to the next step. The distillate is then aged in ash vats, mixed with syrup and water, and then bottled at 64 proof.
❖  ABV: 32%
❖ Distillery: Luxardo Distillery
❖ Aging: 2 years
❖ Price Point: high price
Nose:
❖ cherry
❖ roasted nut
Palate:
❖ cherry
❖ dark chocolate
❖ vanilla
❖ orange marmalade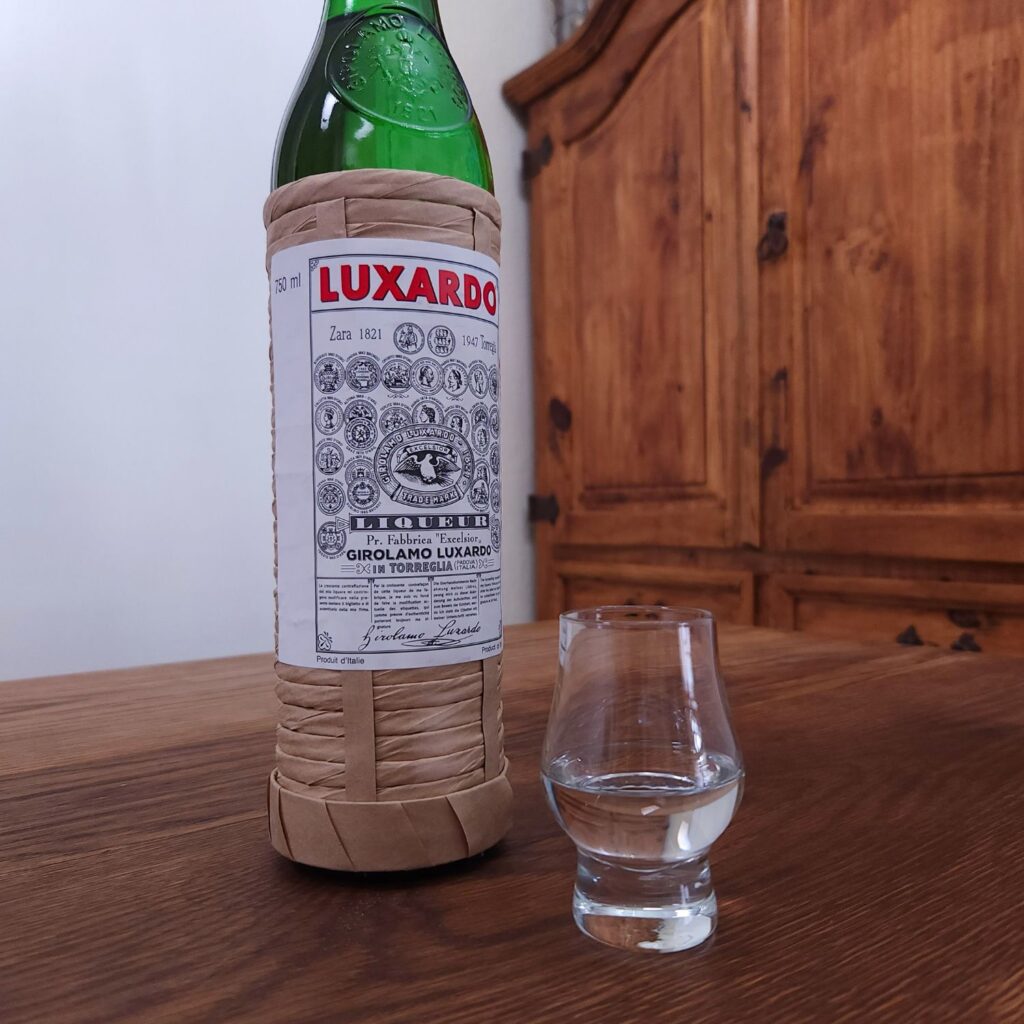 The nose notes of this liqueur were bright yet elusive at first. The scent was very natural and vaguely floral. After several seconds, notes of cherry and woodiness came into the background. The aroma really transported me, and I could picture the cherries being pressed in my minds eye.
I took my first sip, and there was a bright heat that flowed up from my mouth into my nose. The flavor was not as sweet as I was expecting – in a good way. The cherry flavor was very natural, and there was a slightly nutty and woody quality to it. It really painted a picture of the growing marasca cherries in my mind's eye.
For my cocktail, I thought it would be fun to try out Croatia's national cocktail!
For those who don't know, the area that is now the nation of Croatia has had various names over the years, due to history and politics that I won't get into here. That's why if you google Zara, Dalmatia (where Luxardo was founded) you won't find it on the current map. It is now Zadar, Croatia. I was actually super excited to find out that Luxardo originated in this region, as the original distillery is less than 50 miles from where my great-great-great-grandpa emigrated from in the mid 1800s. I had no idea!
This cocktail is a seasonal variation of a drink by Marin Nekić, who himself suggested that people alter the recipe seasonally. For Autumn, he recommended that people add fresh tangerine juice to the cocktail, although he did not specify any ratios. I decided to substitute half of the cherry juice with the tangerine to get the ratios below. Hope you enjoy!
❖ 50ml maraschino liqueur
❖30ml fresh lemon juice
❖15ml sour cherry juice
❖ 15ml tangerine juice
❖ garnish: orange zest, cherry
1. In the order listed above, add the ingredients to a tall glass filled with crushed ice
2. Sprinkle some orange zest over the top
3. stir gently with a bar spoon to mix, and add the rest of the garnish
Inside of a cocktail, this liqueur was very nice. It really went down easy, and the cherry notes played nicely against the sourness of the mixers. The drink as a whole was pleasantly tart.
Overall, I really enjoyed trying out this bottle of Luxardo Maraschino Liqueur. After being a fan of the brand's delicious candied cherries for years now, I think I unfairly had in my head that the cherry liqueur would also be extremely sweet. However, I was pleasantly surprised with how natural and nuanced the flavor was. I absolutely love it! Although I'm not sure if I would sip it straight again, I can see it being very versatile in cocktails, and I can't wait to experiment with it even more.
Although this Maraschino Liqueur a bit of a splurge, I think it's pretty fairly priced for the quality. Just make sure to savor it properly when you pick up a bottle for yourself!
As always, drink responsibly.
Get more from Let's Drink It! by subscribing to our monthly email newsletter