Just so you know, this post contains affiliate links. We do receive a small commission when you click on our links and make a purchase (at no extra cost to you). We always give our honest opinions, and these opinions are fully our own. See our Disclaimers →
Bellewood Farms Pumpkin Spiced Liqueur
About Bellewood Farms Pumpkin Spiced Liqueur
Bellewood Farms Pumpkin Spiced Liqueur is produced by Bellewood Farms, a farmstead and craft distillery based in Lynden, WA. As a farm-to-glass facility, Bellewood farms grows the produce that end up in their spirits, which include brandy, vodka, gin, and liqueurs.
This particular bottle of Pumpkin Spiced Liqueur is made with real pumpkin and an unspecified apple-based spirit, as well as natural spices. This spirit is also gluten-free, and made without any added sweeteners.
❖  ABV: 25%
❖ Distillery: Bellewood Craft Distillery
❖ Aging: N/A
❖ Price Point: High Price
Palate:
❖ pumpkin pie
❖ vanilla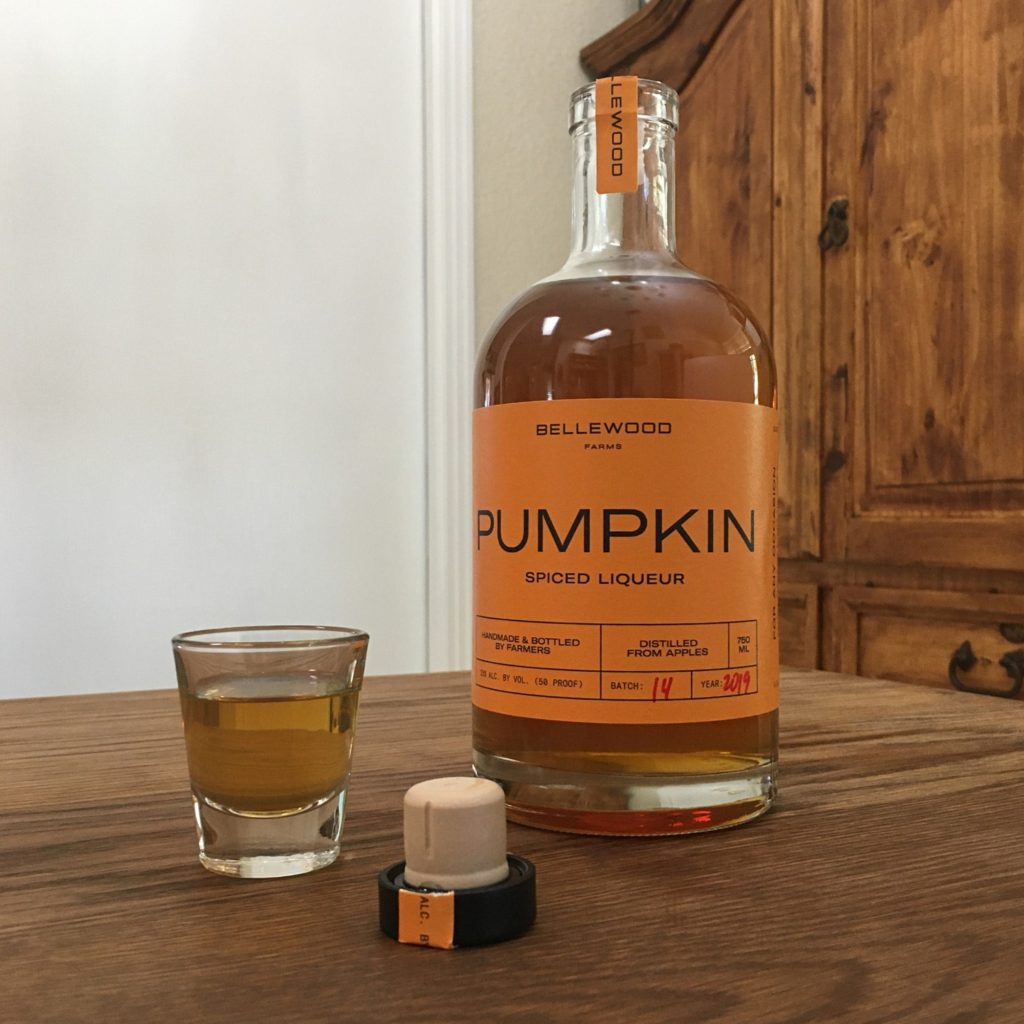 The aroma of this liqueur was immediately delicious, with strong notes of pumpkin pie. There is a refreshing edge to the scent, which I eventually realize is the apple base. The apple notes come out more and more with each whiff. 
I took my first sip, and it was very smooth. At first there is a gentle alcohol flavor, shortly followed by strong pumpkin pie notes. The finish was nice and sweet, as if I had actually taken a bite of pumpkin pie that was lingering in my mouth. After about 3-4 sips, notes of apple also came out. Overall, the flavors were nicely balanced and easy to sip.
For my cocktail, I wanted to try out this recipe that I found on the Bellewood Farms website: the Maiden's Prayer. As soon as I saw this recipe, my mouth immediately began watering, and I knew there was no other option for putting this pumpkin spice liqueur to the test! I hope you enjoy it, too.
❖ 2oz pumpkin spice liqueur
❖ 3/4oz triple sec
❖ 1/2oz lemon juice
❖ 1/2oz orange juice
❖ garnish: lemon twist
add ingredients to a shaker with ice, and shake until chilled.
Strain the mixture into a cocktail glass.
garnish if desired.
This cocktail was every bit as tasty as I had hoped. The flavor was refreshing but emotionally warm at the same time due to the combination of spices. The pumpkin flavor was subtle yet noticeable, and added a nice touch to the overall drink.
Overall, I think that Bellewood Farms Pumpkin Spiced Liqueur is a really special spirit that exceeded all my expectations. I really loved tasting it, and I can't wait to use it to experiment with even more cocktails this Fall.
This liqueur is definitely a splurge compared to other pumpkin flavored spirits, as it has a relatively high price tag. However, I would still recommend it to any pumpkin spice lover who is willing to pay a little more for the quality. I really appreciate the fact that this liqueur is handmade as well as farm-to-glass. I think one can really taste the difference, as the flavors seem very fresh and natural.
If you're looking for something special and festive to celebrate Autumn, Bellewood Farms Pumpkin Spiced Liqueur is the way to go.
As always, drink responsibly.
Get more from Let's Drink It! by subscribing to our monthly email newsletter