Just so you know, this post contains affiliate links. We do receive a small commission when you click on our links and make a purchase (at no extra cost to you). We always give our honest opinions, and these opinions are fully our own. See our Disclaimers →
21 Seeds Grapefruit Hibiscus Tequila
About 21 Seeds Grapefruit Hibiscus Tequila
21 Seeds Grapefruit Hibiscus Tequila is an infused tequila created in partnership with Destiladora Del Valle de Tequila (Casa Maestri) in Tequila, Jalisco. Co-owned by a group of 3 American women, the 21 Seeds brand aims to provide a highly sip-able Tequila experience that is similar to drinking a glass of wine. As a femme-centered brand, they also take pride in the fact that their partner distillery is predominantly staffed by women, as well as co-owned by a woman.
Each infusion is made with Blanco Tequila from Casa Maestri, and then infused with real, fresh fruits and botanicals. This bottle of Grapefruit Hibiscus Tequila is infused with fresh grapefruits sourced from Veracruz, hibiscus flowers, and other unspecified natural flavors.
❖  ABV: 35%
❖ Distillery: Destiladora Del Valle de Tequila (Casa Maestri)
❖ Aging: N/A
❖ Price Point: Lower Moderate Price
Nose:
❖ fresh grapefruit
Palate:
❖ grapefruit
❖ hibiscus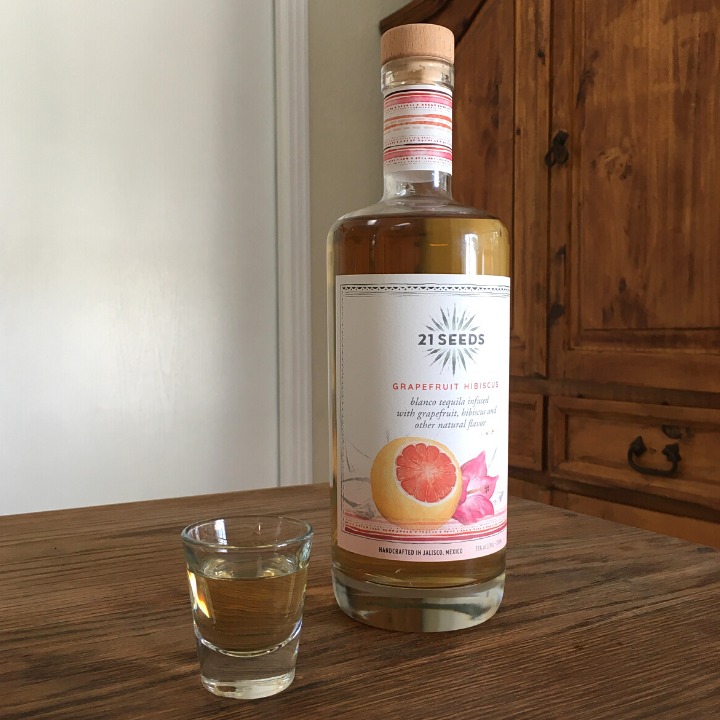 I began to pick out the nose notes of this Tequila, and found that the grapefruit notes were immediately apparent – and, they smelled like particularly juicy and sweet grapefruits. There is not much alcohol in the aroma at all. Overall, the aroma is sweet, fresh, and light.
I took my first sip, and there was a slight burn in the back of my throat. There was a hint of grapefruit flavor, but it was quickly overtaken by the burst of alcohol flavor. My second sip was slightly more bitter than the first – like a bitter grapefruit mixed with a something vaguely floral and leafy. 
After a few more sips, I find that there is more and more bitterness in the flavor. Given the way that this Tequila is advertised, I'm a bit disappointed with my straight tasting experience.
For my cocktail, I wanted to try one of the recipes on the official 21 Seeds website. Despite the name, this recipe for the Drink Pink caught my eye. Made with watermelon juice and lemon, it sounded super refreshing!
❖ 2 oz Grapefruit Hibiscus Tequila
❖ 2 oz fresh watermelon juice
❖ squeeze of lemon wedge
❖ garnish: mint sprig or thin slice of lemon
Put the ingredients in a shaker with ice, and shake for 30 seconds.
Strain the mixture into a cocktail glass.
Garnish if desired.
This cocktail was pretty tasty, though nothing about it felt particularly special. In the end, it was just okay.
The watermelon mixed with the grapefruit and hibiscus notes tasted like a vague fruity blend that was mellow and sweet. I found it to be pretty well balanced, albeit underwhelming. 
Even though the tequila advertises that it uses "natural flavors", it didn't taste particularly fresh inside of a cocktail. There was something a bit artificial about it.
At the end of the day, I was intrigued by the concept of this Tequila, but unimpressed by the execution. When it comes to good Tequila, smoothness isn't everything. However, when a company goes out if its way to create a smooth product that can be sipped like wine, you expect them to at least live up to that promise! Personally, I don't see myself sipping this Tequila without mixers in the future.
21 Seeds Grapefruit Hibiscus Tequila does just fine in cocktails, but is nothing to get too excited about in my opinion. For the quality, I think it is a bit overpriced.
Although I like that 21 Seeds is women-owned, I was disappointed to find out that it is not owned by Mexican or even Mexican-American women. Though I kept an open mind going into my tasting, I ultimately feel that the lack of cultural awareness in leadership was apparent in the final product. I plan to keep an eye on this company to see if they do better in the future. Now, however, I wouldn't feel comfortable recommending this Tequila to a friend.
As always, drink responsibly.
Get more from Let's Drink It! by subscribing to our monthly email newsletter