Just so you know, this post contains affiliate links. We do receive a small commission when you click on our links and make a purchase (at no extra cost to you). We always give our honest opinions, and these opinions are fully our own. See our Disclaimers →
Trader Joe's Small Batch Vodka
About Trader Joe's Small Batch Vodka
With the overwhelming number of other spirits available on the market, I'm not usually interested in any produced by grocery stores. But while browsing for some new cocktail mixers, I found Trader Joe's Small Batch Vodka hard to pass up because of the surprising low price. I'm also always a sucker for a simple bottle design. So, let's see if I would come to regret my first experience with a grocery store branded spirit.
Trader Joe's Small Batch is a corn-based neutral spirit that, as the name suggests, is distilled in small batches. In fact, it's distilled 10 times before being charcoal filtered and bottled at 44% ABV. I couldn't find much information about the producing distillery, but it is noted as being bottled by Minhas Micro Distillery.
❖ Spirit: Grain-Based Vodka
❖ Distillery: Bottled by Minhas Micro Distillery 
❖ ABV: 44% (88 Proof)
❖ Low-Price
❖ Nose: ethanol and a hint of vanilla and cream
❖ Taste: little bit of heat from the ethanol, pepper
❖ Finish: medium, citrus, pepper
Yield: 1 drink
Cucumber Basil Vodka Tonic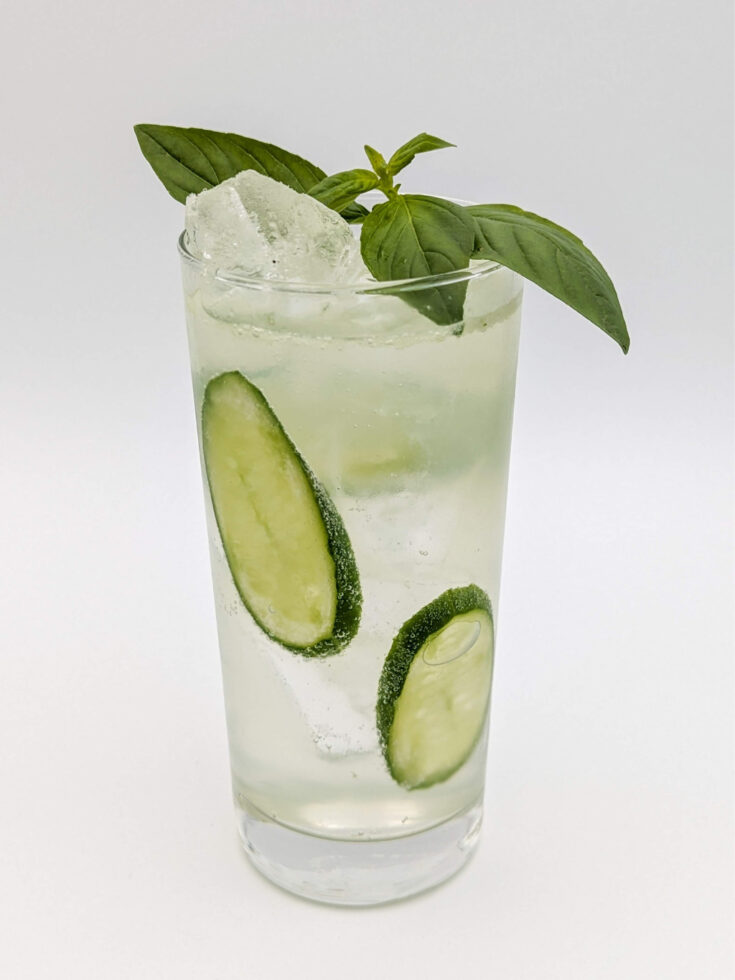 Ingredients
1 1/2 oz Vodka
1/2 oz lime juice
3-5 cucumber slices
2 basil leaves
Instructions
Add lime, vodka, and cucumber to a shaker, and muddle thoroughly.
Add basil, and lightly muddle.
Add a cube of ice, shake to chilled, and strain into a tall glass
Top with tonic, and garnish with a sprig of basil and cucumber slices
Although I've been making a variety of refreshing cocktails this summer, I haven't used vodka yet. So Trader Joe's Small Batch Vodka seemed like a perfect opportunity to finally use the spirit and try a vodka tonic for the first time. To make the drink a bit more exciting, I decided to add some cucumber, basil, and lime juice.
I'm quite pleased with the way this cocktail turned out. There is a nice balance between all the ingredients, and the flavor evolves with each sip. I taste the cucumber and basil to start, but the tonic and a hint of lime are prominent on the finish. As expected, the Trader Joe's Small Batch stays neutral, and allows the other ingredients to stand out.
I must admit, I didn't have high expectations for Trader Joe's Small Batch Vodka, but I was impressed by it's quality. Although the mouthfeel was nothing out of the ordinary, an interesting peppery spice note made it tolerable to drink neat. And, despite the higher proof, the burn from the ethanol wasn't too bad.
Despite having that pepper note, Trader Joe's Small Batch is still suitable as a neutral spirit in cocktails. It allows other ingredients to shine, and I haven't been disappointed in a cocktail yet. And, the low price makes it great for mixing. In fact, this might be the cheapest spirit I've personally reviewed. I also won't feel bad about using it  to experiment with some homemade liqueurs.
I debated about what score I want to give Trader Joe's Small Batch Vodka, but think it's ultimately giving me exactly what I want from a vodka, and a little bit more. It's affordable, high proof, works well in cocktails, and is tolerable neat. Can't ask for much more than that.
As always, drink responsibly.
Get more from Let's Drink It! by subscribing to our monthly email newsletter