Just so you know, this post contains affiliate links. We do receive a small commission when you click on our links and make a purchase (at no extra cost to you). We always give our honest opinions, and these opinions are fully our own. See our Disclaimers →
La Gritona Tequila Reposado
About La Gritona Tequila Reposado
La Gritona is a reposado tequila from the highlands of Jalisco, Mexico. Owner and operator Melly Barajas, along with a group of local women, produce this tequila in a small distillery using locally grown agave. The bottle is also produced locally; hand-blown using recycled glass in a city an hour away.
Since it's a reposado tequila, La Gritona is slightly aged before bottling. The spirit sits in ex-Jack Daniels barrels for 8 months to accentuate the agave characteristics without adding too much flavor from the barrel. There's more in-depth information on the distilling process on the La Gritona website.
❖ Spirit: Tequila Reposado 
❖ ABV:  40% (80 Proof)
❖ Distilled in the highlands of Jalisco, Mexico
❖ Moderate Price
My Tasting Notes
❖ Color: Straw
❖ Nose: Sweet, I get a tropical fruit like mango, slight pepper spice
❖ Taste: Vegetal, sweet mango, slight vanilla
❖ Finish: Long and dry, slight pepper and a vanilla sweetness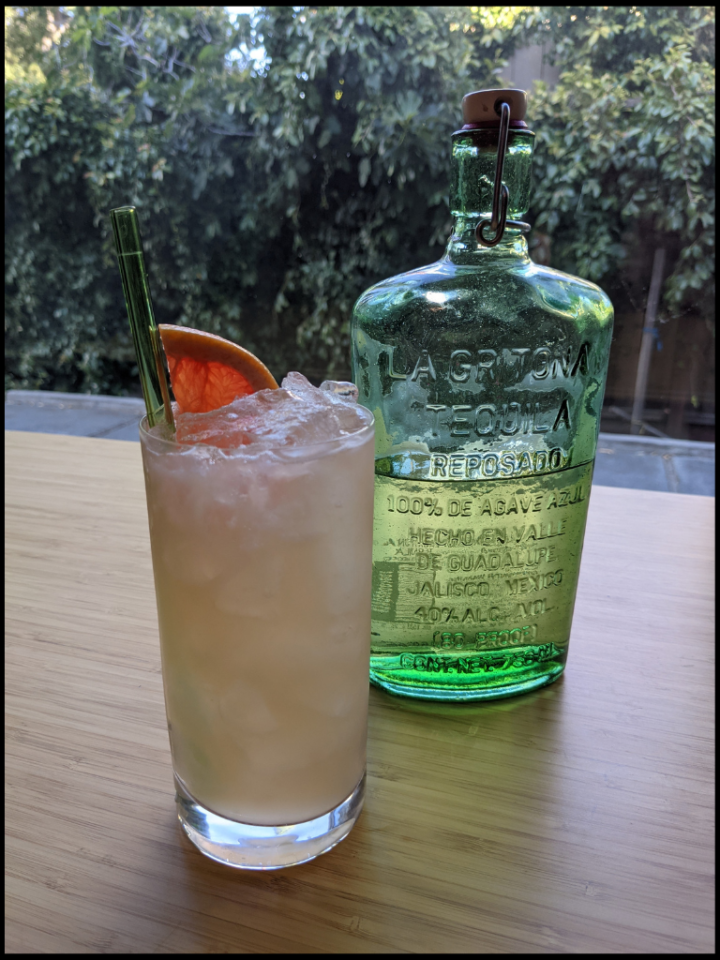 Love the straw in this cocktail? We do, too! You can get yours here with our 20% off coupon LETSDRINKIT.
Paloma
3/4 oz Simple Syrup
3/4 oz Lime juice
2 oz Grapefruit Juice
2 oz Club Soda
2 oz Tequila
❖ Pour ingredients into shaker and shake for 10-15 seconds
❖ Add club soda to shaker
❖ Strain into highball glass filled with ice and garnish with grapefruit wedge
Since I wanted to use fresh ingredients, I used the paloma recipe from "Cocktails Made Simple." I was hoping the fruit notes in La Gritona would work well with fresh lime and grapefruit. The recipe calls for blanco tequila but La Gritona was lightly colored enough to not effect the presentation.
I really loved La Gritona in this Paloma. The fruit notes blend well with the citrus and gave the cocktail a pleasantly sweet flavor. It was almost like a soda but the citrus helped to balance the sweetness. I only had access to red grapefruits for this particular cocktail but I think a different type of grapefruit might work just as well, if not better. I also thought the color looked great.
I really enjoyed La Gritona Tequila Reposada overall. My experience with tequila is limited but this is my favorite cocktail tequila so far. All the cocktails I've made with it have a generally richer flavor and the fruit notes work well with citrus. My partner says it makes her favorite margarita.
I was also impressed with the versatility since it's also good neat. It finds a nice balance of flavors that are complex without being overwhelming.
The only thing that keeps me from giving it more than 4 stars is the price and availability. My partner ordered La Gritona from wine.com for about $35 but it's currently listed at $39. I would still recommend it at this price for a both mixing and sipping but it's less appealing if you are looking for one or the other.
I might also be more lenient because La Gritona is produced by a small distillery. It's refreshing to find a quality spirit from a small producer and it's even more exciting for me if it uses sustainable ingredients and is woman owned and operated. I just hope they can grow on their own terms.
As always, drink responsibly.
Get more from Let's Drink It! by subscribing to our monthly email newsletter