Just so you know, this post contains affiliate links. We do receive a small commission when you click on our links and make a purchase (at no extra cost to you). We always give our honest opinions, and these opinions are fully our own. See our Disclaimers →
About Catan Pisco Reserve
Catan Pisco is an American-based brand that produces Pisco with the help of Fair Trade Certified partners in Chile. Founded by Chilean-American Catalina Bentz, Catan is the first female-owned Pisco brand that has ever been made in the country of Chile. As a brand, they are also dedicated to the fight against water scarcity in Chile, donating 1% of each bottle to the cause.
Catan aims to make a unique and versatile spirit, and the company often markets its Pisco as an alternative to Vodka or Tequila. 
This bottle of Catan Pisco Reserve is made using organic Pedro Ximenez grapes from Ovalle, Chile, which are hand picked and then double-distilled in copper stills. It is aged in stainless steel tanks for an undisclosed amount of time, until it reaches 40% ABV. It is gluten-free as well as carb-free.
❖  ABV: 40%
❖ Distillery: undisclosed
❖ Aging: reservado
❖ Price Point: high price
As I began to smell this pisco, I found the aroma to be very light, sweet, and smooth. The gentle grape notes were present but barely noticeable. It was overall clean and fresh.
I took my first sip, and the alcohol lit up my tongue like a sudden bright stage light, surrounded by smooth grape notes in the rest of my mouth. During my second sip, I could also pick up subtle notes of grape skin, helping to create the overall impression of fresh grape.
As I continued, each sip was slightly different, and my frame of reference was continuously changing. In some sips, I even tasted a hint of grape gummy candy. Other sips were less sweet and slightly bitter. Overall, the experience of tasting this pisco was both exciting and calming. I could really taste the love and care that goes into creating the final product.
For my cocktail, I wanted to try a classic drink that dates back to 1890's San Francisco: the Pisco Punch. Since the Catan brand is Chilean-American, I thought it would be appropriate to make a drink that captures this melting pot spirit – and hopefully tastes delicious!
❖ 2oz pisco
❖ 1oz pineapple juice
❖ 1oz lime juice
❖ 1oz simple syrup
Add the ingredients to a shaker with ice, and shake until chilled.
Strain the mixture into a small cocktail glass.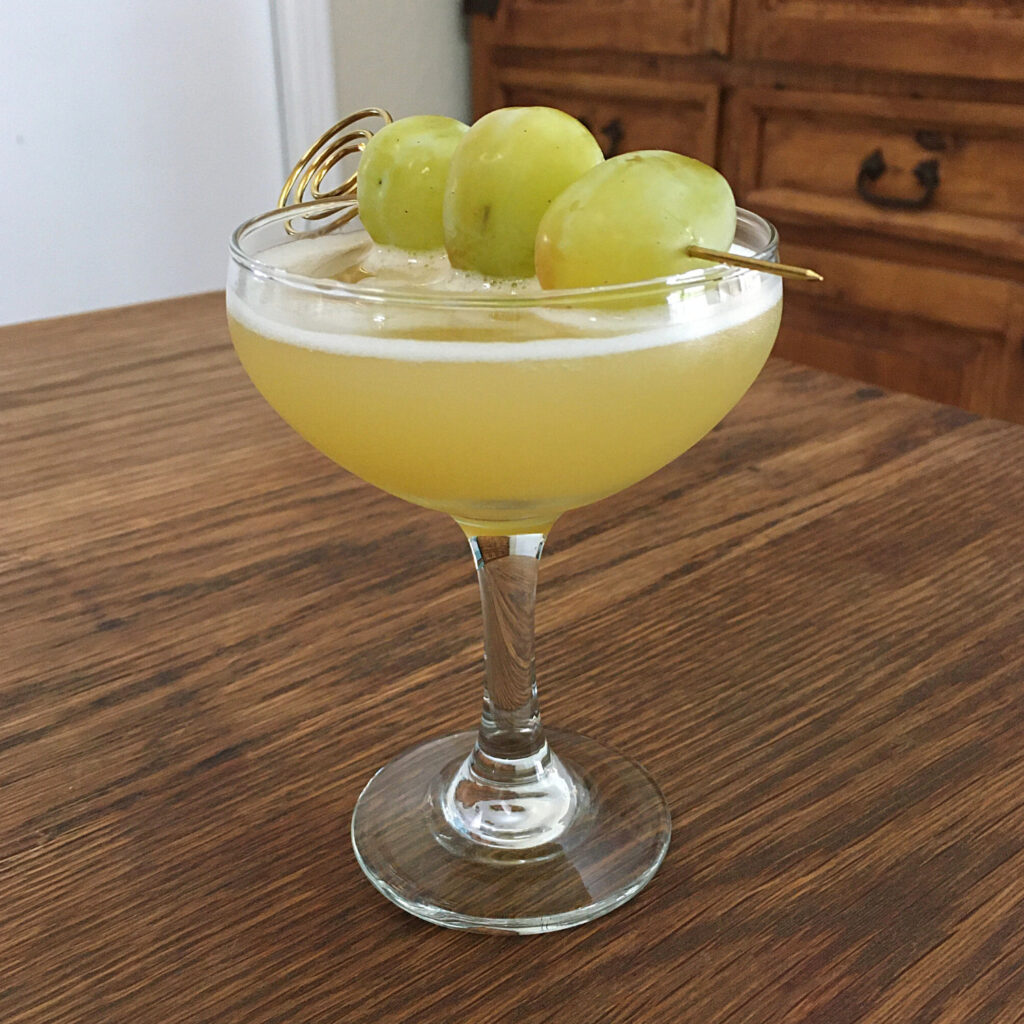 This cocktail made with Catan Pisco really wowed me. I was immediately impressed with how well the flavors worked together and tasted delicious. The grape notes in the Pisco come out beautifully. They almost taste fresh squeezed!
Though I personally love the sweetness in this drink, some folks might want to reduce the simple syrup a bit. 
Overall, I was extremely impressed with Catan Pisco Reserve. Even with my high hopes and expectations, this bottle managed to exceed them. It's been a while since any of the bottles I've reviewed on here have sparked my creativity to this degree, but I'm already plotting a (hopefully) delicious New Year's Eve drink centered around this Pisco. It has really gotten my creative juices flowing.
The ingredients taste very fresh, and overall it just tastes special. I also love that the company is woman-owned. They also partner with Fair Trade grape producers, and support water availability efforts in Chile.
The only drawback is that Catan Pisco is a bit of a splurge price-wise. However, if you have a more generous budget, or are looking for the perfect special-occasion bottle, I highly recommend picking up a bottle of Catan Pisco Reserve.
As always, drink responsibly.
Get more from Let's Drink It! by subscribing to our monthly email newsletter