Just so you know, this post contains affiliate links. We do receive a small commission when you click on our links and make a purchase (at no extra cost to you). We always give our honest opinions, and these opinions are fully our own. See our Disclaimers →
I hate to admit it but I bought my first bottle of Gray Whale Gin solely because of the gorgeous bottle. The ocean blue with the simple white lettering stood out from the rest of the traditional looking bottles on the store shelf and I was immediately sold. But as I learned more about the people behind this gin, their inspiration for the flavor profile and their message of environmental conservation, I felt better about making the impulse purchase. 
Gray Whale Gin is made by Golden State Distillery in Sebastopol, California. Marsh and Jan Mokhtari started the distillery in 2016 with intentions of creating a spirit that celebrates the natural beauty of California and promotes nature conservation. This gin gets it's name from the species of whale that lives along the Pacific coast of North America.
The recipe for Gray Whale is relatively simple and contains only six botanicals from different stops along the whale's migratory path. There are Juniper berries from Big Sur, Limes from Temecula, Fir from Sonoma, Sea Kelp from Mendocino Coast, Mint From Santa Cruz, Almonds from Central Valley. 
Golden State Distillery are also trying to be environmentally conscious. They only use locally sourced ingredients, their bottles are painted with organic paint and the stopper is biodegradable cork. Also, 1% of all sales go to Oceana, the largest marine conservation organization in the world.
❖ Spirit: Gin
❖ Distillery: Golden State Distillery
❖ ABV: 43%
❖ Batch No: 012
❖ Moderate/High Price
I wasn't able to see any official tasting notes on the Gray Whale website but they did have more info on the botanicals they use.
❖ Color: clear
❖ Nose: strong lime, juniper and pine. Slighty salty like sea water. A very pleasant experience.
❖ Taste: The lime, juniper and pine are still prominent but the salt is a bit stronger. There's also a berry-like sweetness and an enjoyable heat from the 43% ABV
❖ Finish: long and warm. The lime, pine and salt slowly fade out an peppermint remains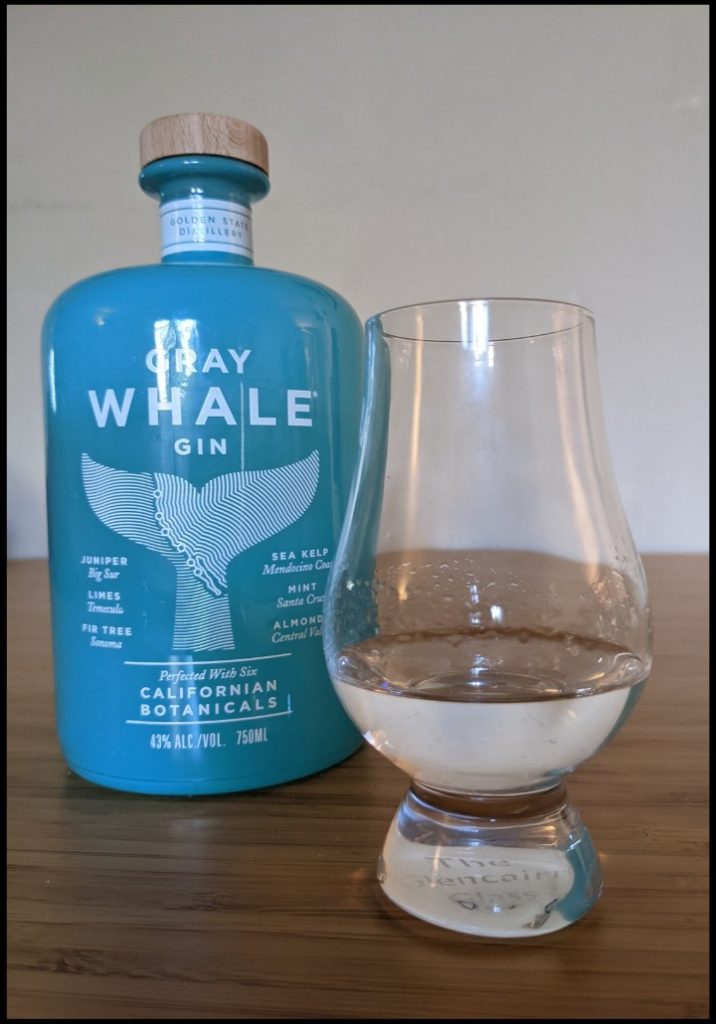 Yield: 1 drink
Bee's Knees
Ingredients
3/4 oz (22 ml) Honey Syrup
1 oz (30ml) Fresh Lemon Juice
2 oz (60ml) Gin
Instructions
Combine ingredients in a shaker.
Add one large ice cube and shake vigorously until sufficiently chilled
Strain into chilled coupe
Citrus and Juniper notes from the gin dominate the nose but they still blend fairly well with the lemon juice. The honey is faint on the nose but really comes through on the palate. In fact, it might have been a bit too strong at first but I still get a hint of the botanicals and salt. But the cocktail continues to evolve and the finish is where it's most balanced. Overall, it's a really pleasant experience.
I think I could have adjusted the honey and lemon a little bit. The honey syrup I use is a 3:1 ratio so it's pretty strong. But I think the Gray Whale works great in this cocktail because of the strong botanicals. The only negative is the slight salt flavor that might not be to everybody's taste.
While Gray Whale does have some negatives, I still really enjoyed this gin and would easily recommend to both newcomers and experienced gin drinkers. Even though they limit the recipe to six botanicals, there is still an enjoyable depth of flavor while also being approachable for beginners. In fact, my favorite way to drink Gray Whale is on the rocks where I still get most of the flavors from the botanicals but with a little bit of dilution.
It also works pretty well for cocktails with citrus or other strong flavors. A Bee's Knees was nicely balanced and I also really liked it in a gin and tonic and a bramble. However, I did also use it in a martini but the botanicals overpowered the vermouth. I would recommend using a dry gin for that type of cocktail.
But the this gin is priced a bit too high if you want to primarily use it for cocktails. I live in California and regularly see bottles in liquor or grocery stores for $30-36 and this is slightly more than I recommend paying for a cocktail spirit. You likely won't be able to find this flavor elsewhere, but you can get a similar quality for cheaper. 
I also respect Golden State Distillery for using their product to promote environmental conservation and locally sourced ingredients. It's easy to be cynical about this type of marketing, but I think they mostly pull it off. Basing the botanicals on the gray whale's migration not only gives the gin an interesting talking point but also has a tangible effect on the spirit's flavor.
As always, drink responsibly.
Get more from Let's Drink It! by subscribing to our monthly email newsletter